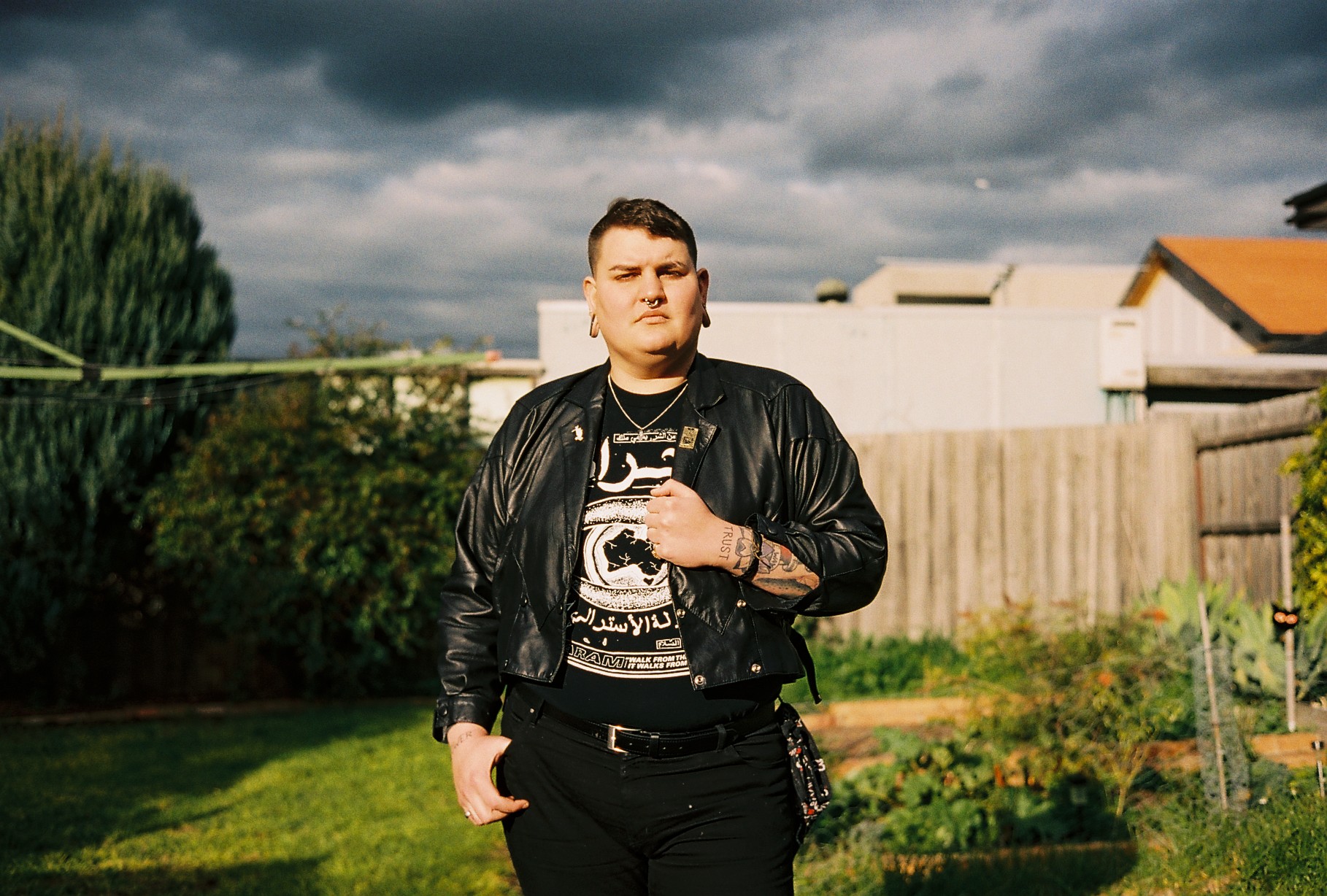 Shoshana, Melbourne, 2019
Raynen in their bedroom, Sydney, 2019
Letter to their younger self, Raynen, 2019
« Dear Raynen,
You will have support - that won't mean that you won't feel alone or scared or anxious - in fact you will have a few solid years of anxiety ahead of you, but it will teach you.
I'm wary to write to you. I know we have different ways to communicate. Sometimes, I feel like I'm a different beast from you, but maybe that is age, and maybe that is dissociation, and maybe that is deciding and moving forward and building from the base of where we've come from.

I know you are scared in a way that makes you adventurous and bold. I miss that, we had a lot of fun then. I wonder sometimes where that has gone - out there, here- there are a thousand tiny ways each days to make boldness. Don't underestimate them. They add up.
As we make way for each other I will return and circle back, and integrate, and remember and pay my tiny homages to you. In 2012, you will say your first kind words to yourself -they will seem at odds and disbelievable at first - by the hops plant.
Come 2019, you are building home within yourself. »
Mini, Melbourne, 2018

Beyond our bodies is an ongoing feminist project about female and non binary people's narratives in the contemporary world. It's about giving representation, voice and empowerment to marginalised bodies through an intimate gaze that unfolds a contemporary perception on how it is to live in our bodies in different cultures, depending where we grew up and how we identify.
While gender roles and representations are slowly shifting in modern societies, it is important to redefine terminology and show the people who make that change happen in their daily lives, by challenging normative gender structures enforced by society since they were born. This diary of encounters is mostly captured in the intimacy of people's homes, because it's a safe space for them to express their truth, beyond restrictive binaries that are unfit to their complexities. It's about holding space from the private sphere into the outside world, filling it with personal narratives.
Showing that in the end, gender is mostly a performance, and that the boxes made by men will always be too limitative for most of us.
In order to change the dominant narrative, bringing visibility is the first step.
Elliot and Lucia, Melbourne, 2018

Lucia and Elliot started dating in Berlin, where they both live. She is from Argentina, he is from Australia. It was the first time Lucia came to Australia to visit Elliot's family. She said that getting outside of Berlin's alternative bubble would always be a reminder of the rampant intolerance of the greater world, and that being queer was not that well accepted everywhere. Lucia doesn't really like it here and told me that in some places people would really stare at them. This is a crucial period in Elliot's life as he started transitioning gender, and they support each other a lot. Even though Australia recently voted yes for same sex marriage, there is still hostility towards LGBTQIA people.
Knz, Paris, 2017

Knz left Algeria with her mother when she was ten years old to escape the black decade, a troubled period. They asked for the political refugee status. At that point, Knz's mother's husband was about to take a fifth wife and her mum wanted a better future for her daughter. But after arriving in France her mother, who was a pretty liberal woman in Algeria, was completely isolated and found refuge in Islam, which was a link to her homeland. It started to clash with Knz when after seeing her friend's note her mum accused her of being a lesbian and threw her out. That's why Knz started to squat when she was 16.
When she went back to Algeria after 10 years of absence, her cousins picked her up and asked where was her hijab, that there was no way she could walk around their neighborhood without covering up and dishonor the family. Knz said there was no way, she grew up in France and didn't receive a religious education, how could they ask this from her? She met feminists there who were asking for the right to drink coffee at a terrace. They would go during the quiet time and sit down but they would get beaten up and thrown in jail. When Knz came back to France, she thanked her mother for leaving Algeria, thing that changed their relationship because she always blamed her for migrating without asking her opinion, kind of cutting her from her roots. She told her that now she understood.
Knz in La Petite Maison, Paris, 2017
Monica, Chiang Mai, Thailand, 2017

"Actually I don't identify so much with a group of people or with a gender. I can be very masculine sometimes. It's really about what the system tells you what you should be or not, it's also about how hormones work for you at that time of your life, it's really chemical and we have a lot of this going on. To be free is not easy sometimes, the system tells you that a woman has to be this way, a man that way, now it's a little bit more mixed up and open minded that it used to be. But there is still jugement and the way people look at stereotypes is still strong. Beauty types for example… A lot of artists are trying to push on the other way but it's hard to break the structure."
Monica, Chiang Mai, Thailand, 2017
Margot, Paris, France, 2017
" I am made of flesh and hairs"
"I am conscious of being a pile of breathing flesh that moves around. But I feel like some moving slime that take a shape to present itself in front of people.
I feel neither male nor female. Physically I ended up being aware that I would be seen as feminine, and it will always surprise me. My thoughts have no gender, no sex. My body feels like a prison of flesh with the cage of people's judgement on top of it. I can't control people's gaze. Whatever appearance I would give myself, I would be seen for what I am not".
Margot, Paris, France, 2017
Waree, Chiang Mai, Thailand, 2017
"They raise us to be slaves"
"I always felt alone in my life since I was born. Because my mother left me and gave me to my auntie, as she had no daughter and my mother had many so she took me. Once I was in her house I was a slave, nobody cared what I ate or what I did, I was slowly educated. Education of Thai people is just to work like a slave. I could not communicate to anybody. I had to survive alone and work very hard. Now my daughter is 14 years old, my son 16 today. These kids were born in a comfortable life, full of abundance. If the wind blows in her eyelashes, she cries. She's gonna be fucked up in the future. The kids born in a comfortable life never have to face any struggle. Their parents take care for their kids not to know the struggle side of life, and I think it makes them too fragile. From now on I want to educate my kids in another way.
Because if I look at my self in any situation I know how to live. I have 100 baht I know how to live. I'm not crying. I think it is very good to be able to face any side of life. I never want my daughter to be in that stage though. I don't want to depend on men or anybody if I don't feel like it. Myself is the god, is the center of hope. If I wanna fuck up my life or do something new it's my decision. We need to have self center, to strongly stand here with yourself, then whatever happens you're not going to fall down easily."
Waree ran away from home and studied successfully to become an accountant. She is now a Thai massage teacher in Chiang Mai.
Raynen, Sydney, 2019
Raynen's letter to their younger self, 2019
Serwah, Stanmore, Australia, 2018

" I think femininity is different for everybody. I've been doing a lot of research about the Akan tribe that is my father's tribe in Ghana. It's so hard having roots in so many places and feeling like in a grey area. My mother is Italian-Dutch, and my father is Ghanaian. When two members of my african family that I never met came to Australia, it was basically ' Hey, that's your sisters, make them feel at home'. They were calling me 'red', which is a derogatory term. I was like whoa?!?. Then I go to my white side of the family and they would be like ' Why don't you change your appearance, straighten your hair, dress properly' etc?
I didn't choose to be like this why can't you accept me as I am anyway?
It's so hard to accept the differences between both sides cause they're so different and contradicting at times.''
Serwah plays in the heavy anti colonial band Dispossessed and is also a multidisciplinary artist.
Quashani, Kensington, Australia, 2018
"Im a solo artist named Quashani Bahd, I was born in Harare, Zimbabwe. I came to Melbourne 17 years ago with a suitcase pack full of hope, dreams and inspirations and three pairs of shoes. My life is music, art, and fashion. Being a black woman just means that I need to work harder because I'm a woman but then I need to work twice as hard because I'm a black woman. Femininity for me means being hard and also soft. It would be like brick and laces. Growing up the perception of being a woman is that women are sensitive and therefore it makes them weak. But you can be sensitive and still be pretty tough. Often I get told 'you're so tough, you're so strong' and I didn't realize what people meant is this endurance, this resilience. And only a woman would know what that is like, because men take it for granted. Don't get me started on male privilege or we'll need a whole volume!!!"
Quashani, Melbourne, 2018
Deliriousink in her bedroom, Melbourne, Australia, 2018
"With Java being a very muslim place it's really important for me to say I'm Javanese polyamorous queer, and I'm not ashamed of it. I'm really feminine but then again the definition of feminine is not necessarily always stereotypical. It doesn't have to be a certain thing.
I think there is a lot of fierceness. It doesn't have to be submissive or graceful gesture etc." =>
I was conflicted in my early twenties because I was too feminine, and I was trying to identify as an independent strong woman. There is a urge to act masculine, there is shameful things about wearing pink or so called girly stuff, and it's part of misogyny! Why to be strong do we have to act masculine? Pfff!!! Femininity has fierce aspects and so many spectrums in it. I completely identify as femme. It's always fluid though, depending on how you feel. Sometimes you wanna look tough or soft, it depends.
So erotica and sexuality is a big part of my identity, of what I got liberated from."
Deliriousink is an illustrator and a tattoo artist from Bandung, West Java, Indonesia. In 2016 she published Penahitam Erotika, a part of an art fanzine collective in Indonesia. She currently lives in Melbourne.
V in their rehearsal room, Brunswick, Australia, 2018

"If there is one adjective I hate being described by is SEXY.
It repulses me, I find it disgusting, even by a woman. I don't wanna be sexualized by my friends or by strangers. I'm not someone's object. I get sexualized enough by people on the street!
I suppose the better way to describe my gender is androgynous.
I don't want to be a man, I don't want to be a woman."
V
Quashani in front of her first gig poster 'I love dancehall', Melbourne, 2018
"Opportunity dances with those already on the dancefloor", quote on Quashani's dressing table, Melbourne, 2018
Margot, Paris, 2018
"Outside of any gender consideration, it's hard to identify to its own skin when you're born in a so called female body. Because women are mainly represented from fake and unreal prospectives in movies, books, magazines… To win the right to be represented they first have to be judged as 'feminine' and 'pretty'. The definitions behind these terms being really limited, these women are expected to have all the same body, the same attitude.
The body has to be young, thin, without muscles, without hair, without scars and without stories… They are not persons anymore but some beauty allegory. Disembodied.
The attitude has to be smooth, soft, light, ethereal, kindly, harmless. From persons they become empty shells, while their being of flesh and blood with a unique story is being suppressed.
This femininity is the negation of the person.
It's unreal and unreachable, and toxic as it is dissociative. How could one identify with this, make the link between this representation of femininity and a real body? =>
"While there is nothing more divers, troubling, violent and sometimes painful, often dirty than the experience of our own bodies and life itself ? From birth in blood to pimples, hair, fat, blood, disease, wounds, then wrinkles, and degenerescence.
We also need to express sadness, anger, hatred and frustration to exist. Violent feelings are inherent parts of human existence and reactions towards life experience.
So why 'femininity' looks like the absence of vital forces and of darkness that makes us complete human beings?
I would like to see women capable of violence, of anger, ready to fight for what's important to them, their flesh marked, carrying themselves with only their own sense of self, existing without any consideration of beauty. Bestial and monstrous for others, humans for me. Then I might feel like the start of an identification and could feel like I can relate.
My appearance does not reveal or reflects who I am. It should not have to.
I neither express neither represent femininity when I dress up, when I wear make up, when I move, talk or write. I only express and represent myself. »
Margot, Paris, 2017
Deliriousink, Melbourne, 2018

About feminism
"If it's about actual empowerment I'm into it. But if it's about some people trying to be the authority to dominate other women it's just bullshit.
I think now the feminist wave in Indonesia is interesting and changing, being positive about what some want to do. I'm sex positive too. At that time some so called feminist would say that you're not respecting your body if you're sleeping around, that you give your body to men. It's not giving it, it's using your body in any way you want it, I don't see how it's not empowering.
I don't like the feminists that are really hateful of sex workers or transgender people.
"There's been a moral panic triggered by the Facebook rainbow filter. A lot of people in Indonesia believe that LGBT movement is part of American propaganda to destroy the nation's morality so we stay as a third world country.
After the Lady Fast - a punk festival involving lots of women - was raided, people made leaflets saying that if the government didn't punish these people they will do it in their own way and punish them throwing them from the highest building around, or stone them or burn them." =>
"In Aceh this gay couple got arrested and they got publicly caned on a stage in front of a crowd who was cursing them for being gay. It's becoming common for neighbors to look into your house if they suspect that you're living or making out with someone you're not married to or worse, someone from the same sex. They will try to kick you out of the house to mass shame you before kicking you out from the neighborhood.
Raids happened in big cities in Java.
If there's some sexual act happening, the police would feel justified to arrest you ; there's a pornographic law that they use for everything.
Having erotica photos of me and my friend was a statement, and we knew the risks." Deliriousink
Mini in their lounge room, Collingwood, Australia, 2018

"When I was way younger I went on dates with a bro who mansplained to me what a femme was, and he was telling me that I was a femme, that femme didn't have to have long hair etc. That just really pushed me away from identifying as femme for so long. I wasn't gonna let this bro dictate my gender. So people were constantly assuming I was femme, adding me to online femme collectives.
Being femme is subversive and intentional but not necessarily aligned with being cis femme. It's an intentional celebration of queer femininity and I felt like this person was telling me I was a lady! I'm not a girl, I'm not a lady. I'm a creature and I love feminism but I'm not a girl. » Mini
Mini is a black queer crip non binary person from Melbourne, living on Wurundjeri land.
They perform as the solo hip hop artist Racerage, do spoken word and visual arts.